DXY passed 91 Marke; what next?
USD Index passed the 91.00 mark, ahead of U.S. data (C.B. Consumer Confidence (Apr)) and FED policy announcement. At the same time, U.S. 10-year yields also raised to 1.586%. Late today, we will have the U.S. Consumer Confidence, housing data, 7-year auction data, which with positive expectation, are also supposed to support the greenback vs. a bundle of its main competitors.
There is another reason to support the U.S. dollar, and it is the surging coronavirus cases mainly in Asia, especially in India.
On the other hand, tomorrow's Flash Q1 GDP and Initial Claims are supposed to be much better than expectations, and it must decrease the market risk and demand for USD, as the stock market being more interested at the moment.
After publishing these data, today and tomorrow, the FED announcement and Mr. Powell's speech will be at the center of attention. As we are not waiting for any changes in the interest rate and short-term monetary policy, the only factor affecting the USD is the FED outlook and Fed chair speech. Investors will be looking for any sign of diminution of the Bond purchasing.
March CPI gained 2.6% yearly base, while Core CPI advanced to 1.6%, to confirm the FED look at the inflation, as there is still room to raise, before turning the turning on the alarm. Therefore, FOMC members will have reason to dismiss the inflation worries. And it must put the greenback on the pressure.
Many different indicators support the USD or increase the pressure on it; in conclusion, it is better to wait for the FED chair press conference on Thursday.
Technical overview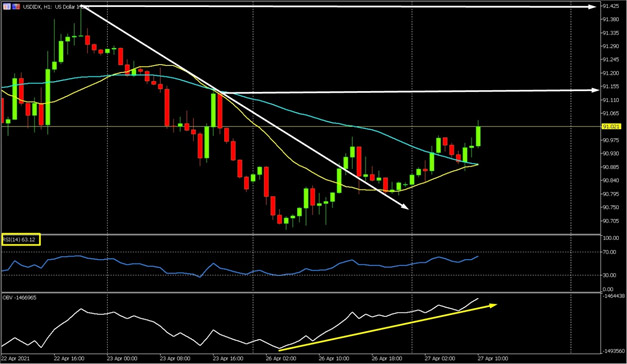 At the current level, DXY has raised 0.25% today so far. Above this level, 91.15, 91.45, and then 91.63, where 50 and 20 DMA crossing each other, will be the next resistance level to open the doors for 93.43 (2021 high Mar.31). On the flip side, turning under pivot point at 90.80 can lead the index towards 90.68 (monthly low Apr.26) to open the doors for 89.68 (monthly low Feb.25) and then 89.20 (2021 low Jan.6).