How disappointed can it be?
Netflix, Inc. is preparing to publish its earnings report of Q1 2021 today, 4/20/2021, after market close. The information will cover the fiscal Quarter ending Mar 2021. According to Zacks Investment Research, based on 15 analysts` forecasts, the consensus EPS forecast for this Quarter is $2.98 (+89.8% Y/Y). The reported EPS for the same quarter last year was $1.57.
The Consensus Revenue Estimate to be $7.13B (+23.6% Y/Y), with an earnings revenue estimate of 7.13B (+23.6% Y/Y). The average revenue per user (ARPU) is also expected to be $11.35. Operating income is also likely to be $1.78B and operating margin 25%. And finally, free cash flow is projected to be $216.2M.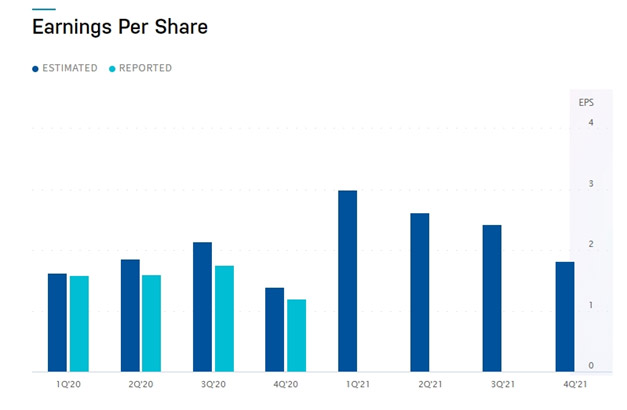 In the past four quarterly reports, Netflix could beat the expectations three times.
In the past Quarter, after the report market had two opposite reactions. Firstly it rose (10%) after the report, which showed a 203.6mln (an extra 8.5mln paid net subscribers in Q4 2020) growth in anticipated subscribers, all around the globe, and then sharply decline, after that company published conservative guidance on its Q4 financial report. EPS of 1.19 for the fourth Quarter of 2020 was slightly lower than $1.38 of expectations. Check out the bellow figure from "https://www.gsmarena.com/."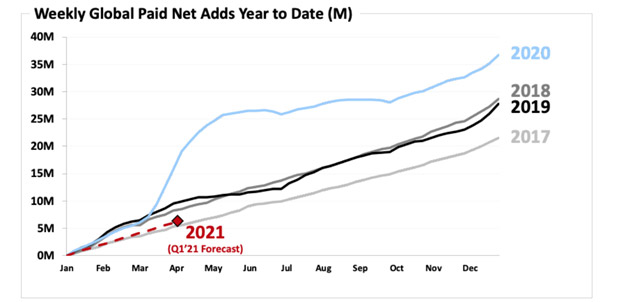 For the Current Quarter, since reopenings got much faster and analysis expectations, especially in the UK and United States, tips for staying home also decreased, which must probably lower its earnings and new subscribers.
Technical review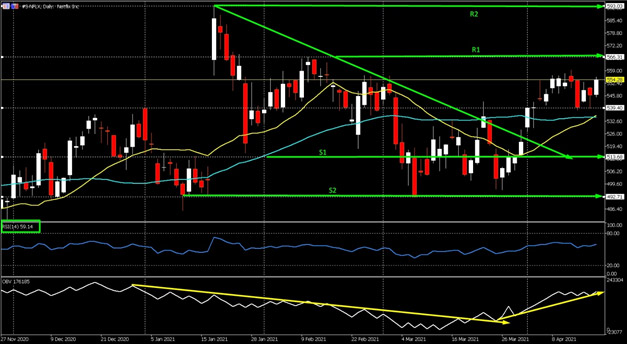 2021 high of 593.03, as a second resistance after the R1 at 566.30 is the main target in case of positive reports and EPS, and on the flip side, first and second supports, respectively at 513.70 and 492.70, will be the levels, which we need to take care of them. Pivot point also sits at 535, where 20&50 DMA lines sitting on each other.
RSI at the 60 and OBV trend line is positive, supporting the newly positive pattern of EMA crossing strategy.