International Business Machines Corporation (IBM) will publish its Q1 earning results today, 04/19/202. According to Zacks Investment Research, based on six analysts' forecasts, the consensus EPS forecast for the quarter is $1.67. The reported EPS for the same quarter last year was $1.84. Current full-year EPS estimates are $11.15 and revenues of $74.35 billion, confirming a 28.6% increase in yearly base.
Morningstar, quoting management, still describes IBM (IBM) as the "world's largest IT services company," Company currently extends its services to hybrid cloud, mobile, analytics, cognitive technology, and AI-related solutions are expecting to see improvement in all sectors.
IBM had good progress by developing a hybrid cloud platform as the basis for the digital transformation of IBM clients. It was the main topic of Chairman Arvind Krishna's speeches since the previous Earnings call. However, working to increase the effectiveness of its quantum computing systems and blockchain offerings also was in their To-Do lists of past months.
The analyst expects a Non-GAAP gross margin of 46.9%.
Over the last eight quarters, IBM has beaten EPS estimates 100% of the time and but the success rate of beating the revenue estimates was only 38% of the time.
Technical overview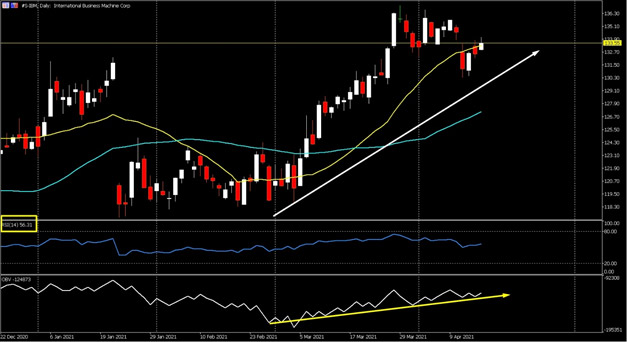 Zacks rating for IBM is currently #3 (hold). Since the market is pricing more on the positive report than negative, we can confirm its uptrend in the daily chart. Positive earnings reports must support the higher prices to test 137.00 and higher, while adverse reports can help the share try the critical support of 130.00 and 50 DMA at 129.00. Breaching this level can open the doors for deeper levels, which is not likely to be seen at the moment. In uptrend also crossing above R3 at 135, will open the doors for March high at 137.00