Gold Fundamental and Technical review
Today, Gold finally broke its created trading range of past days (1,776 - 1,781) and lost the ground against USD gaining. USD also kept its slight uptrend, which has been started since the beginning of this week on Monday, rose 0.12% so far today to trade stable above 91-mark. Today also investors willing to learn the U.S. Federal Reserve`s latest policy decision on the direction of the central bank`s monetary policy.
At the time of writing, Gold`s future was down 0.75% to 1,765, while the USD index is gaining 0.12%. Silver also fell 1.6% so far today.
On the other hand, Joe Biden announced a $1.8 trillion proposal for families Educational and aid, which need to hike wealthy taxes to 39.6% on capital gain to cover the required cost of the plan.
Before reading FED economic outlook later today, I have to mention that published data this week shows that factory orders and the Conference Board (CB) Consumer Confidence index rose from last month. Both rises come after increasing vaccination and huge stimulus packages, which allow more substantial economic recovery and mean less demand for Gold.
After lots of criticism on the COVID-19 front, the United States started to assist India with vaccination.
Technical overview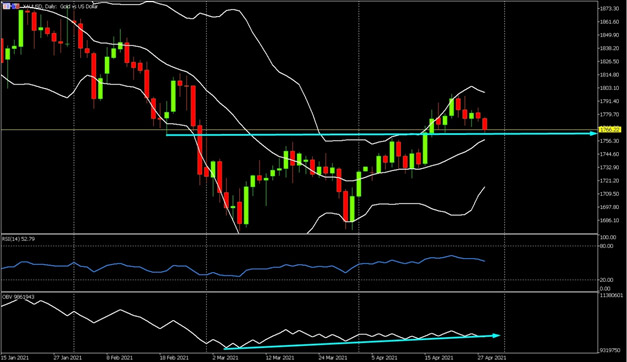 As we can see in the Daily chart, Gold is starting its downtrend under the critical level of 1,774. OBV trend line is going to be broken. Under the middle line of BB, 1,759 is the third support and next target. However, RSI at 53 can not still confirm enough strength of this trend. On the flip side, recovering above 1,778 pivot point can stop the correction and keep the current general uptrend towards 1,800.