The Dow Jones Industrial Average, created by Wall Street Journal editor Charles Dow, is the most popular and one of the oldest stock indices followed by investors around the world. The Dow Jones Industrial Average includes the 30 largest US companies and it actually reflects the economic condition of the country. Currently, the prefix "industrial" is not relevant and it is a tribute to the history, as there are many companies from other spheres included in the index.
The history of the Dow Jones Industrial Average
The index was first published by Charles Dow in 1896. It was calculated as an arithmetic mean of stock prices of the 12 largest US companies and was 40, 94 pips. Of these companies, only General Electric is presented in the current version of the index.
In 1928, the number of companies increased to the present 30, and the method of calculation changed as well: fixed divisor was applied.
The biggest changes in the composition of the index occurred during the Great Depression of the 1930s. The most rapid growth of the index was in the second half of the 1990s, when over 3.5 years the index rose by 5000 pips. The greatest collapse took place on October 19, 1987: 22, 6%. Moreover, this "black Monday" was not preceded by important news or events.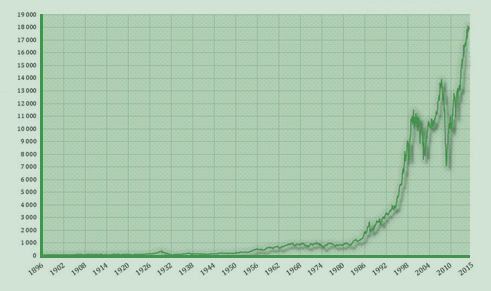 How is DJIA calculated?
All the indices of Dow Jones differ in the method of calculation from all the other indices: they represent weighted price and do not take into account market capitalization. The sum of stock prices of 30 companies is divided by the divisor which changes only when combining or splitting stocks included in the index. The last value of the divisor is approximately equal to 0, 14602128. Such calculation of the index is its main disadvantage and makes it not quite objective, because the company with high stock prices, but with lower capitalization has more influence on the index than the company with high capitalization and cheap stocks.
DJI index trading
The DJI stock index trading allows traders through one transaction to invest in the stocks of the 30 largest US companies, thus investing in several sectors of the economy. Therefore, by trading any index, the trader mostly follows macroeconomic events rather than the activity of each company.
The company IFC Markets provides its clients with the opportunity to trade DJI index with high leverage and tight spread on NetTradeX, MetaTrader 4 and MetaTrader 5 platforms.
The structure of Dow Jones Industrial Average
The structure of the index changes periodically depending on the position of the company on the stock market. The editorial office of the Wall Street Journal is engaged in the composition of the index.
The list of companies included in the DJI index as of November 10, 2016:
3M
American Express
Apple
Boeing
Caterpillar
Chevron
Cisco
Coca-Cola
E I du Pont de Nemours and Co
Exxon Mobil
General Electric
Goldman Sachs
Home Depot
IBM
Intel
Johnson & Johnson
JPMorgan Chase
McDonald's
Merck
Microsoft
Nike
Disney
Pfizer
Procter & Gamble
Travelers Companies Inc
United Technologies
UnitedHealth
Verizon
Visa
Wal-Mart